Before I even start, I'd like you to clear your concept about Replica Swords. Most people are under the delusion that they could actually use such swords in real battles but that is just another lie from the manufacturers. They want their products to be sold, and that's why they will do anything to make it happen.
What are Replica Swords?
Unlike real or battle ready swords, replica swords are reproductions of the original blades that you guys see in everyday movies or TV series. It can be any epic action adventure movie, a tv series, or your favorite video game. Have you seen lord of the rings movie series right? Well, the swords that were used in the series are actually available for sale. Anyone can buy them at good prices. But you should never consider using them in battles. The so-called battle ready swords are fake too and can never be used for such purpose.
How are they made?
These swords are crafted from a number of materials but most commonly: Stainless Steel, D2 Stainless steel, J2 stainless steel, 440 stainless steel, carbon steel, cold steel, forged steel etc. Carbon Steel is a mixture of carbon elements and stainless steel and thus is way much stronger than ordinary steel.
So, the short story is, whenever the manufacturers see any film, video game, Anime (Japanese Animation/Cartoons) or TV series that involve any major character (usually protagonist) carrying a cool looking sword, they try to make a real looking copy of that. But as you can see, the original can never be the same, therefore we call it a replica. However, the manufacturers try their best to craft the item real like and as close to the original as possible. Still, every manufacturer's version of the same item is drastically different from each other. Some vary in weight, some in overall length, some in details, while some of the items vary in the tiny details of the overall structure of the same item.
Apart from the replica scenario, some of the original items are still sold from the official owners. For example, the official swords used in the Game of Thrones tv series are sold by HBO itself on its online store. But the prices are always sky rocketing ranging from $250 – $2000.
Can these swords cut?
If you want a straight forward answer, then NO! But mostly it depends on the question what you are trying to cut. And, if the construction material is carbon steel and the blade is sharpened pretty much, you have better luck cutting light objects. You can even sharp the ordinary stainless steel blades with ordinary stuff like stones or you can pre-order the "Razor Sharp" blades from the manufacturer's websites. But still, don't forget its a mere replica not something you can slice and dice your enemies with. By default, most of the retailers will sell you blunt edged (normally sharped) blades and believe me, they are good rather than cutting yourself accidently.
Application/Why people buy them?
The most difficult question that I've been asking myself for a couple of years was: Why the hell people even like swords? Aren't guns way better for killing? I hated swords and everything that involved swords all my childhood. I hated every Gladiator and Viking era movie so badly that I couldn't even look at the television screen when anyone in my home had been watching such thing.
That was until I got into Anime. The first Anime that I loved was Dragon BallZ. I had watched all of its episodes until it got to the android saga. In it, the future Trunks arrive to defeat Freeza. He sliced Freeza with his stunning sword. That was the first time I loved any sword because a mighty villain was defeated so easily. At that time, I was like, dude… I want this sword at all cost.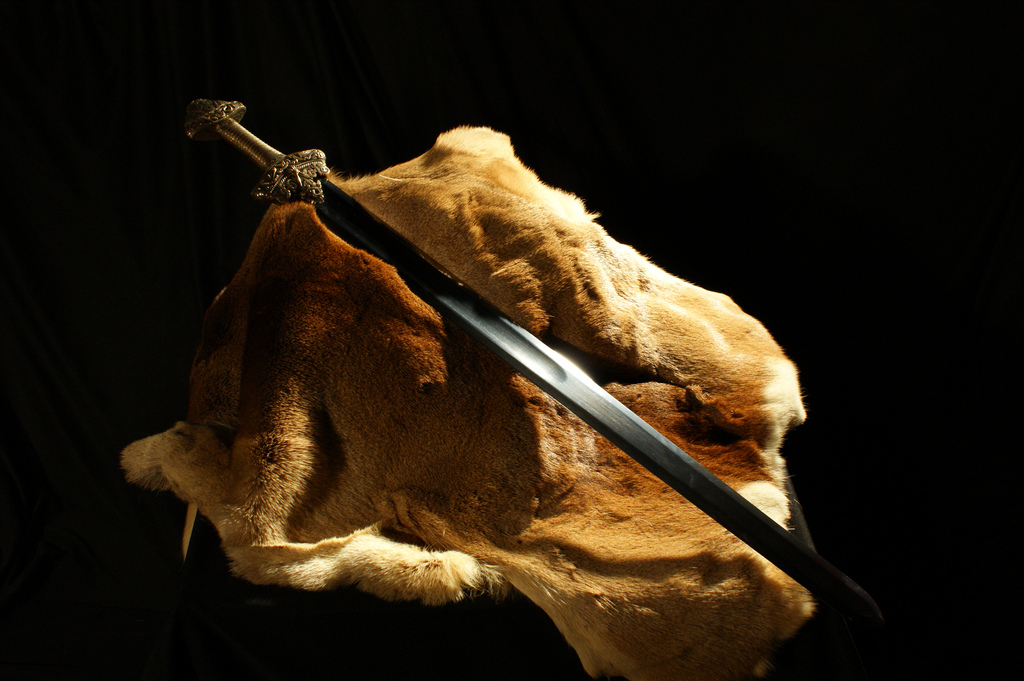 The second Anime was Naruto, after passing hundreds of episodes, Sasuke Uchiha (one of my favorite characters) got a Sword from Lord Orochimaru. And that was the second sword I loved and wanted so badly. The third Anime I loved was Bleach and everyone in the series has a sword of its own with some weird name. I loved so many zanpakuto in that series but sadly, it ended at episode 366. And then I watched a never ending Anime series called One Piece. My favorite character was Roronoa Zoro who had three katana swords and a weird three swords style technique. He could chop anybody so easily. I wanted all of the three swords (that he carried) named Yubashiri, Wado Ichimonji, Sandai Kitetsu.
What I didn't know at that time was that all of such swords are actually crafted and are available online. Today, I have most of the above mentioned but that still doesn't answer the question why other people want them? So here's a good guess why?
Theatre Reenactments
People in theatres sometime have to put a costume either from medieval times or any famous movie. With their costume, they like to grab the actual sword used by that character. That is why they order the replica version of such swords.
Ornamental Purpose
Most people buy them just for display purpose. Meaning the sword is a beautiful object and it looks good while being hung on the wall or on some display stand.
Character/series obsession
Just like my story, a person could be obsessed with the character that holds the sword, or the series itself. In my case, it was Roronoa Zoro. But someone could like any of the Anime or movie character and will more likely buy the weapon wielded by that character.
Item's Personal Beauty/Gift Purpose
In most cases, the sword is too beautiful to resist. And thousands of people give swords as a gift to their loved ones on special occasions like New Year, Christmas, Easter etc. Millions of swords are purchased just on Christmas each year in USA alone.
Cosplays
Now this is what I really cannot understand. You like the series, that's okay. You like the character, that's okay too. But why in the world you would end up just like character? People do cosplays (costume play) meaning, putting on a costume with full makeover just like the real character these guys see in any movie, game or Anime. Sounds crazy doesn't it? And that's not all of it. They even buy the weapon or sword (replica edition) and wield it while they perform this cosplay thing. And the biggest shock is that hundreds of Conventions are held (Anime Conventions) worldwide each year where these cosplayers arrive and their cosplays.
Important Accessories you need
Let me tell you one more thing, the sword itself isn't everything. It has a number of accessories that can be used to make it more fun. See if the retailer provides most of these with the item for free or a little extra.
Sheath or Scabbard
Always check if the retailer website offers a free scabbard or sheath with the sword. If he doesn't, ask for it. Because without scabbard (a wooden piece in which the sword fits in) or the sheath (usually a leather compartment in which the sword is kept) the sword cannot be safe. And you might even get arrested for walking around the town with your sword totally naked.
Display Stand/Wall Plaque
Check if you want to go for a display stand or wall plaque. Usually both of these are made of fine wood, rosewood or blackwood, and are perfect for showing your favorite sword with all its pride.
Rust control Oil and Maintenance Guide
If the retailer doesn't send you a rust control oil, be sure you have a good quality machine oil that should be applied on the blade at least once a year to keep it from rusting and breaking apart.
Nice Packaging for long lasting protection
When you don't want to play or show off with your sword, you should keep it in its original packaging. And, the packaging should be solid wooden box, or at least cardboard box for keeping the item secure for long term usage.
Razor Sharp or Blunt Edge
This is the most important one. Always ask or read the product description about the nature of the blade. The thing is, some countries do not permit razor sharp blades so you might wanna checkout it first before just placing your order. And if you want the razor sharp version, ask the retailer website if they deliver it with sharpened blade.
Things to consider before buying
Most of the manufacturers don't sell such stuff in your local grocery store, departmental stores or local market. You can only buy them online (in most cases). You cannot just grab anything you like online, pay for it and hope that you will get the perfect thing as seen in the website's gallery. In most cases, you order something, and receive some low budget cheap ripoff that looks nothing like the image. That's why I have put some of the important points that will help you in your future shopping.
Price Comparison & Construction Material
Always check the prices from multiple sources of the same item. Also keep an eye on the construction material. If they say its steel or plastic, never buy it. Always go for full length version stainless steel ones.
Too low prices
If you see the price is way too low, skip that online store and search for any other with the same item. Normally, a replica sword should be anywhere between $60 – $250 price range.
Privacy Policy, Terms/Conditions, Refund Policy
So you do not wanna end up buying an item that is nothing like the image you saw on its website, and want a refund but they will not let you do so? Here is the transparent solution for that. You should always first check the privacy policy, terms and conditions and refund policy of the store from where you are going to order from. Check if what these guys do with your personal data (email, phone, address, name etc), check if they have some sort of rules and regulations/terms they work with and also see if they allow refunds. Read carefully the refund policy especially.
Websites History
You must check the history of the website you are going to order from. For this, the simplest solution I've got is to Google their name and see what comes up. Check if they are registered on several business directories and have a long presence online rather than just popping up recently.
Social Media Presence
Every big brand and successful online store has its presence on a number of Social Media channels right? Go for it and check if the online store you're going to order from has been registered on any of the popular social media platforms. Especially, check if they have a good social media engagement.
Customer Support
Check if the retailer website has provided his factory's, office or warehouse's address. Even if they have provided any of the three mentioned addresses, you are good to go. Be sure if they got any Phone number on their website. Because if you face some issue during the order processing, you might wanna call them immediately instead of waiting for their reply for days.
Local Retailers
Try to buy from stores that are in the same country as you. I will here give an example of mine. I've been to London a lot of times (currently living in New York) and therefore, I only prefer online stores of UK or US origin.
Famous and Trustworthy Replica Swords Retailers & Online Stores
Now that you've been grasping enough knowledge about the whole replica swords thing, I would like to introduce you to a few of them I have used over the years. All of these are trust worthy and meet the above criteria so you do not have to worry about anything.
Animation Swords – A US based store with pretty cool website. Sells to a number of countries.
Animation Swords UK – A store exclusively for UK and a subsidiary of the above
Blade Kingdom US – A good replica swords store who prefer fast order processing. Only sells to US, Mexico & Canada
Blade Kingdom UK – UK based store and a subsidiary of above
Swords Kingdom – My personal favorite one. One of the oldest retailers and manufacturers with worldwide delivery service.
SDBT Swords – A multi store dealing worldwide.